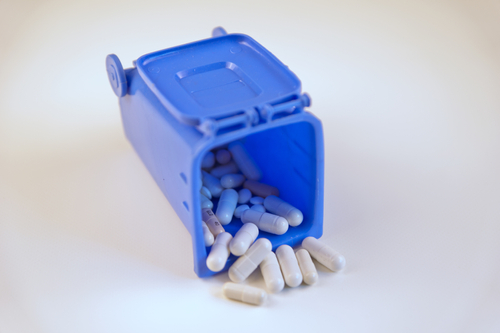 Discarding unused drugs? Don't crush and flush.
Most Michigan residents live within a short drive to one of the Great Lakes and usually within walking distance to a nearby stream, river, or inland lake. The Michigan Department of Natural Resources & Environment (DNRE) has done extensive studies on the presence of trace amounts of pharmaceutical compounds in surface and ground water. This has shown to have a negative impact on the aquatic ecosystem including fish, birds, and other wildlife and to our drinking water.
The Yellow Jug Old Drugs program has been in effect since May of 2009 to facilitate the safe disposal of unused, unwanted, and expired drugs with the help of participating pharmacies. Many Sav-Mor pharmacies participate in this program.
1. Do not flush drugs our pour down the drain
2. Bring unwanted drugs to a participating Sav-Mor pharmacy
3. Share this information
4. Go to www.greatlakescleanwater.org for complete information to help support this program in your community or phone 989-736-8179